Niagara-on-the-Lake Health and Wellness is an integrative health team of chiropractors, registered massage therapists and a naturopath working to better you and your health.
It is our mission to accurately diagnose and successfully treat a wide variety of musculoskeletal conditions and chronic diseases including diabetes, hypertension, stress and anxiety, hormonal concerns and more. We offer a variety of services ranging from hands on manual therapy, manipulation, mobilizations, diet and lifestyle recommendations, acupuncture and cupping, muscle release therapy, instrument-assisted soft tissue therapy, active rehabilitation, laser therapy, registered massage therapy, botanical, vitamin and mineral supplementation and other evidence-based treatments.
Back & neck pain

Extremity injuries

Acute & chronic injuries

Sport injuries & concussion baseline management

Preventative care

Chronic diseases

Rehabilitation care

Motor vehicle accident patients

Prenatal care

Paediatric care

Ergonomic assessments

Education
Dr. Gary Friesen
Chiropractor
Acupuncture Provider
Dr. Gary Friesen grew up in Niagara-on-the-Lake and attended Niagara District Secondary School. He played hockey for the Oshawa Generals, Sudbury Wolves, Brock Badgers and lacrosse for the local Niagara Thunderhawks.
Dr. Friesen attended Brock University and studied physical education before he earned his Doctor of Chiropractic from the Canadian Memorial Chiropractic College.
Besides specializing in back and neck pain, Dr. Friesen has done extensive training in contemporary medical acupuncture, concussion management, and assessment/treatment of NHL hockey players. Dr. Friesen has kept his local sports roots and is a member of the Brock Badgers and Niagara Icedogs health teams.
Dr. Breanne Schultz
Chiropractor
Registered Massage Therapist
Dr. Breanne Schultz was born and raised in Dryden, Ontario. Under the tutelage of local chiropractors, Dr. Schultz developed her passion for patient-centered and evidence-based healthcare. Dr. Schultz went on to study psychology at the University of Winnipeg. She then earned her Doctor of Chiropractic from the Canadian Memorial Chiropractic College and simultaneously earned her Registered Massage Therapist degree at the Royal Canadian College of Massage Therapy.
Dr. Schultz has a wide range of experience with back and neck pain, sports injuries, wellness and nutrition, rehabilitation and pre and postnatal care.
Dr. Julia Friesen, ND
Naturopath Doctor
Dr. Julia Friesen, ND is a Naturopath Doctor born and raised in Niagara-on-the-Lake. She graduated from the Canadian College of Naturopathic Medicine where she earned a four year post-graduate Doctor of Naturopathy degree and completed a 12-month clinical internship at the Robert Schad Naturopathic Clinic. Prior to her medical training, she completed a Bachelor of Science at St. Lawrence University in Canton, N.Y.
Dr. Julia Friesen, ND promotes personalized health care plans, addressing the root cause of disease and alleviating contributing factors of illness. Dr. Julia Friesen, ND offers services in acupuncture and cupping, diet and lifestyle recommendations, botanical medicine and vitamin and mineral supplementation.
Dr. Julia Friesen, ND is an active member in good standing with the College of Naturopaths of Ontario. She is also a member of the Ontario Association of Naturopathic Doctors (OAND) and Canadian Association of Naturopathic Doctors (CAND).
Stephanie Willms
Registered Massage Therapist
Stephanie Willms is a Registered Massage Therapist and started with NOTL Health and Wellness shortly after opening in 2014. Stephanie was born and raised in Niagara-on-the-Lake and is excited to be practicing in her hometown. Being very active through her youth, she was involved in local minor soccer and hockey. Her passion for sports and helping others influenced her to become a RMT. Following Eden High School, Stephanie attended Trillium College in St.Catharines where she earned her RMT diploma. She specializes in deep tissue and relaxation massages. Stephanie has also completed training for kinesiology taping, cupping therapy and therapeutic ultrasound.
Jamie Varga
Registered Massage Therapist
Jamie Varga attended Ontario College of Health & Technology where she graduated with an honours diploma in Massage Therapy. She has a passion for helping rehabilitate and aid in her patients in the healing process. With an emphasis on stretching, strengthening and breathing exercises, Jamie specializes in myofascial release techniques. She is continually seeking more knowledge and education in the field of Massage Therapy.
Aleigh Andrews
Registered Massage Therapist
Aleigh Andrews is a recent Massage Therapy graduate who is excited to start her RMT career in her hometown of Niagara-on-the-Lake. Aleigh is a proud Niagara native, with her education stemming from Niagara District Secondary School, Laura Secord Secondary School, Brock University (BA, Community Health) and Ontario College of Health and Technology. Aleigh brings extensive clinical hours with an interest in fascial and deep tissue techniques for various musculoskeletal injuries, muscle imbalances and daily pains and strains. Aleigh has a passion for community health and wellness. She will help you develop and implement a lifestyle plan that focuses on active living and improving your everyday routine, while enhancing your overall health.
443 Butler Street, Niagara-on-the-Lake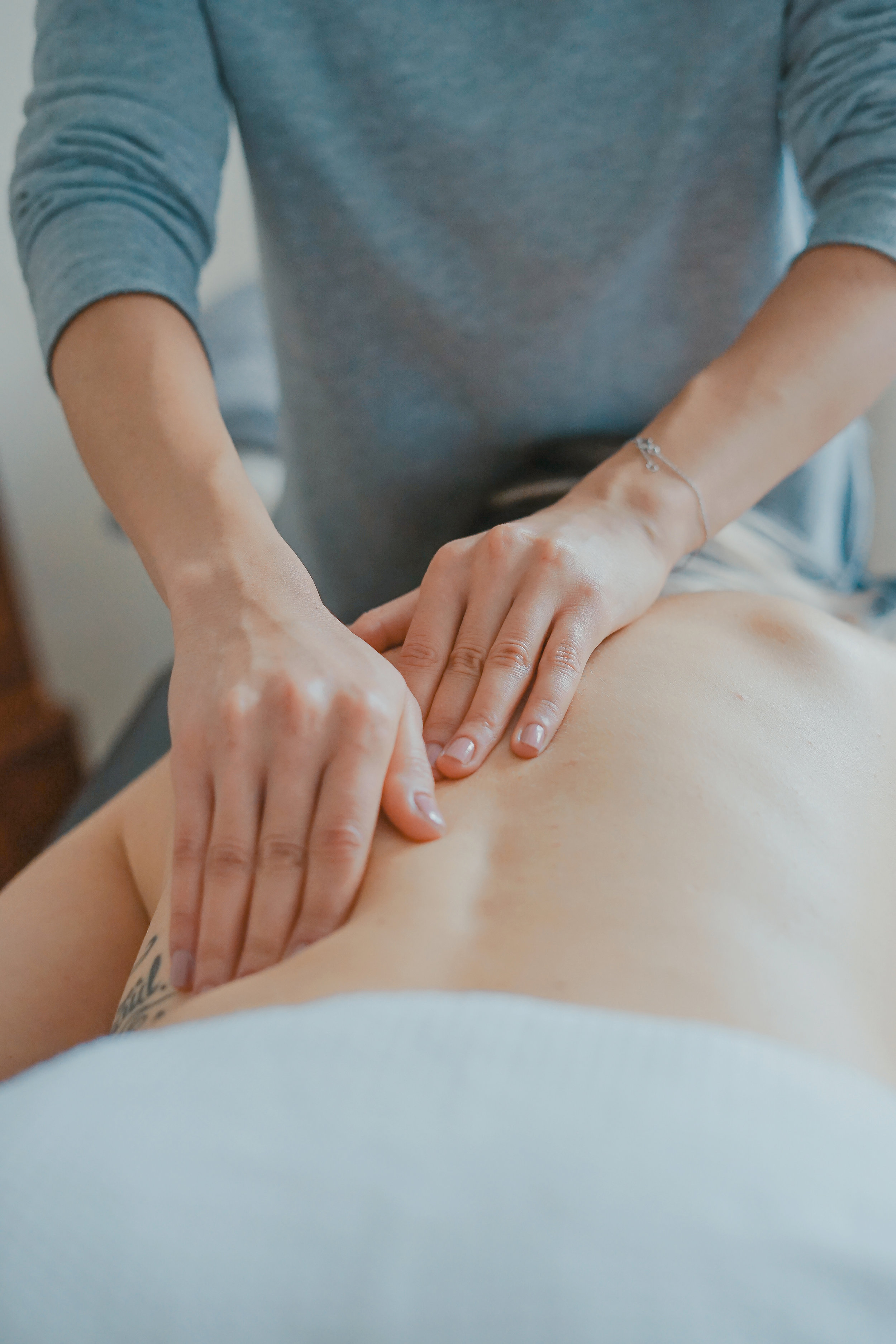 SPINAL MANIPULATION THERAPY
When joints in the spine, or anywhere else in the body are restricted and not moving efficiently, a chiropractic adjustment can be delivered to increase motion at that specific joint, subsequently decreasing pain. Mobilizations, are a gentle technique and may also be implemented with care.
REGISTERED MASSAGE THERAPY
Massage therapy consists of hands-on treatment of the soft tissues of the body, specifically the muscles, connective tissue, tendons, ligaments and joints. Treatment has a therapeutic effect on the body and optimizes health and well-being by acting on the muscular, nervous and circulatory systems. In addition, pain and stress can be relieved or prevented.
NATUROPATHIC MEDICINE
Naturopathic medicine focuses on optimizing health through lifestyle adjustments, safe & effective therapies to support the body in healing, and personalized health care in addressing root cause and alleviating contributing factors of illness. Naturopathic modalities include: acupuncture and Traditional Chinese Medicine, diet and lifestyle recommendations, botanical medicine and vitamin and mineral supplementation. These modalities aim to manage numerous concerns including: stress and anxiety management, pain management, gastrointestinal concerns, weight loss, hypothyroidism, autoimmune disease, acne, post concussion management, PMS and menopause.
ACUPUNCTURE
Dr. Julia Friesen, ND is trained in Traditional Chinese Medicine (TCM), a system of health care which originated over 4000 years ago. TCM Acupuncture is the insertion of fine needles into points along the body on the meridian system to stimulate the flow of Qi (vital force or energy) to restore health. Dr. Julia Friesen, ND offers acupuncture to treat numerous conditions, including anxiety and stress management, chronic pain management, headaches, women undergoing IVF, IUI or other assisted reproductive techniques and hormone imbalances including menopause.
CUPPING
Cupping involves placing silicone or plastic jars on to the skin to create a vacuum by suctioning the air out. The underlying tissue is raised or sucked, partway into the cup. The purpose of cupping is to increase circulation (blood and lymph), help relieve pain, remove "heat" and pull out toxins that linger in body tissues.
LASER THERAPY
This modality is used to regenerate and/or accelerate the healing process of soft tissue injuries.
MUSCLE RELEASE THERAPY
This technique is used by applying pressure to a muscle through a natural stretch; ultimately increasing motion and decreasing pain. Muscle release therapy is often included in chiropractic care as well as for rehabilitation & conditioning.
INSTRUMENT ASSISTED SOFT TISSUE TECHNIQUE
Targeting trigger points in muscles, this technique uses a metal instrument to break through adhesions & scar tissue.
COMPREHENSIVE CONCUSSIONS MANAGEMENT
Certified in 2014, Dr. Friesen has completed a concussion management program to be able to accurately and effectively perform pre-season baseline testing and post-injury management of concussions for sports. Concussions may also occur in motor vehicle accidents and at the job site.
PREVENTATIVE
Rehabilitation and maintenance care are important for recovery of an injury and also to prevent an injury from re-occurring in the future.